Myoreflex Therapy at the Vienna International Dance Festival
Since the summer of 2004, Dr. Kurt Mosetter has been teaching every summer at the Vienna International Dance Festival Impuls Tanz. Over a ten day period each year, he presents courses targeted at three different audience groups. One weekend course is called "Open Level," with three hours on both Saturday and Sunday, and over the following week, there is a "Golden Age 55+" course, and finally, there is a course especially for dancers.
Unfortunately, Kurt Mosetter was unable to personally attend the 2009 Festival. The veteran dancers and Myoreflex therapists, Barbara Roitner and Maud Paulissen-Kaspar stood in for Dr. Mosetter to teach both the "Open Level" course and the "Golden Age" course.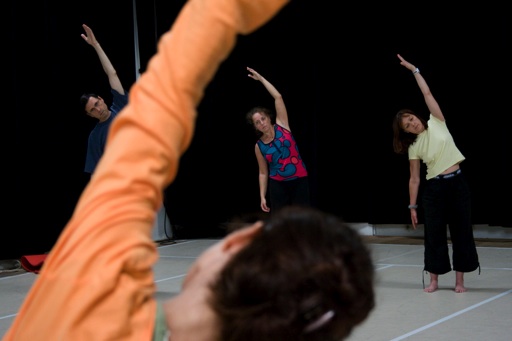 In 2010, courses will be offered once again in the domain of Myoreflex Therapy. Barbara Roitner and Kerstin Kußmaul, two dancers who have been intensively involved with Myoreflex Therapy for some time, will take over the course for dancers. Barbara Roitner and Maud Paulissen Kaspar (a dance professor and Myoreflex therapist) will direct the two other courses. The Myoreflex courses will be offered in the category of "Bodywork." This year's motto is: "We live in our bodies—traces of success."
Kurt Mosetter's fundamental philosophy will be presented: we live in our bodies, and all of our actions, movements and feelings arise from our bodies – we express ourselves and get in touch in our bodies and with our bodies. Our own experiences and individual life histories thus mark our posture, gestures and facial expressions. We are preserved in our bodily memory, and it carries elements of our being everywhere we go. We eavesdrop on ourselves through our bodies.
In the courses, the focus is on muscles, their interaction and their reflexive stimulation. This confrontation with our musculature senses the tensions, emotions and abnormal attitudes in this system and points to solutions that restore muscular balance.
This engagement is developed together with and by participants in the group, and in part using work with partners. Through the methods of dance improvisation, movement (e.g., Resistance Stretch) and music, we will put the course motto into ongoing practice through direct experience on both a theoretical and practical level.
Further information about the Festival may be found on the Vienna International Dance Festival Impuls Tanz website.
© for all photos on this page: ImPulsTanz Workshops 2009, Verena Melgarejo
Impressions of ImPulsTanz Workshop